From The Artist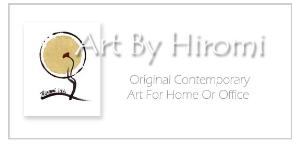 :: Welcome to my online portfolio. I am a native of Northern California and although I have traveled extensively, lived outside of the US and am comfortable in most large cities in the US and abroad, I keep coming back to California. I create 24/7, mostly because I lean heavily towards obsession (passion, whatever you want to call it), tempered by an attention-span of a 2-year old. My sleeping problems started young when my parents worried I was not resting enough because I routinely walked (talked, sang, etc.) in my "sleep." I think someone attributed it my "overactive imagination."
:: In my online gallery, I offer my latest creations - all 100% from my own mind, and mostly contemporary abstract paintings with an occasional representational piece – but all a manifestation of some aspect of me. I love texture and perhaps due to early exposure to Japanese aesthetics, I generally tend toward simplistic elegance. And due to my Mother's propensity towards dressing me in frilly pink outfits at a very young age, I have developed an aversion to anything pastel or overly flowery and gravitate towards earthy neutrals or colors reminiscent of blood or black and blue. However, from time to time, I do follow my whims (mania perhaps?) into colorful territory.
:: My versatile pieces complement a wide array of décor, appropriate for home or office. Most pieces go equally well with:
· contemporary or mid-century styled furnishings such as Eames era (styled) and the clean lines of Danish modern design (Scandanavian) furnishings
· more traditional pieces such as those produced by Pottery Barn or Crate and Barrel
· wood furnishings
· black lacquer
· glass
· chrome (stainless)
· Asian-influenced settings
:: Take a virtual stroll through my gallery ~ take in the art and for those interested, I will write some informational pieces on other pages (TBA) which may assist you as you try to wade through art online, trying to decide what, if anything, you might want to purchase.
:: Feel free to email me if you have any questions about my art or a specific painting. You will receive direct and candid responses from me, the artist, without worrying about answers filtered by a third party such as a gallery.
:: My original paintings display in corporate and private collections in the US, Canada, the Caribbean, South America, the European Union and Japan. Many of my clients are repeat buyers with whom I have an ongoing relationship - I mostly eschew gallery representation to retain my autonomy which benefits me as well as my clients with whom I would not be able to interact were a gallery involved.
:: Go ahead, add color to your life and join my growing list of international corporate and private clients ~ view by category using the links to the left.