JENNY WHALLEY ORIGINALS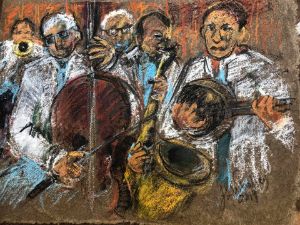 So! When does one refer to themselves as British? Would it be now that I have been in the UK for 21 years? Initially from Zimbabwe I am now a British passport holder. I guess I will always be a Zimbabwean at heart painting wildlife and my favourite Jazz Bands in Oil pastel and shoe polish on 21-year-old rag paper
Over the years my art has developed in a way I never thought it would. I demonstrate my unusual mixed media techniques to Art societies and clubs around the UK with the odd workshop here and abroad.
Sales through my webpages are down but then I don't paint as much as Im used too. Holding down a full-time job as an Advanced Nurse Practitioner, in the National Health Service, has taken up quite a bit of my time.
Now I am starting to slow down painting more; if you are interested in commissioning a painting do contact me either here through
www.yessy.com/allsorts

OR
www.jennysart.space

Thank you for viewing my paintings
Jenny Whalley
P.S please only genuine correspondence. Having been the victim of Scammers I am now wiser to Scamming tactics.