Biography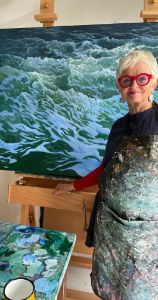 ANN SKELLY BAHons
I'm a Waiheke Island Artist working full time from my small garden studio. I paint mainly in acrylics on board and canvas, sometimes driftwood…..Nature is my Muse
Visitors to the studio are very welcome but please call ahead or email first. I sell many of my pieces from my studio and from The 'Waiheke Room' within the Upcycle Re-Design store in Oneroa, Waiheke Island.
My path so far ….
Two year Art Foundation Course, Avenham College, England.
BA Hons, Art and Design, specialising in ceramics, Loughborough College,England.
Three years full time illustration and design work
Painting and local group exhibitions
Full time freelance illustration work NZ (mainly childrens readers) over thirty published titles to date. Publishers include Heinemann Reed, Wendy Pye, Shortland Publications, Penguin, Ashton Scholastic and ABC Australia
Shortlisted for the Aim Book Awards.
Extensive design and illustration work for both New Zealand and Australian based companies
Goldwater Art Awards Finalist 2002
1st Place Award from Richard Taylor of Weta Workshops for the Body Art Rocks National Body Painting competition, Wellington, Nov 2006.
Solo show "Recent Paintings" at Edwards Jones, Wellington,July 2006 and December 2006
NZAFA Winter and Spring Exhibition, Wellington 2006
New Zealand Art Show,Wellington, August 2006, 2007, 2008, 2009, 2010, 2011, 2012
"Art to Go" NZAFA, Summer 2006-07
NZAFA Gala Exhibition Feb - March 2007
NZAFA Autumn Exhibition 2007, Festival, Winter Spring, Exhibition and Arts Alive 2008.
Body Painting events include "Festival of the Elements", Porirua 2007
"Floating Fashion Parade" Cruise Ship Wellesley, Wellington, Feb 2007
"Cuba St Carnival" Feb 2007
Solo show, Academy of Fine Arts, Wellington October 2007
Finalist, World of WearableArt 2007, HP Children's Dreams and Nightmares themed section. 'Dream Hunter'
Finalist, World of WearableArt 2008,Three garments...CentrePort 'Inspired by Architecture' section, the HP Childrens section (Runner up 2008) and the Shell Bizarre Bra section.
Finalist garment in the 2009 WOW Children's section titled 'Recyclapede'
Finalist 2010 WOW show, Children's section, garment titled 'Spellbound'
Finalist 2011 WOW show, Childrens section 'Lunch on the Run' and Geni Creative Excellence Section'Lady Baccilli Cocci'(Honourable Mention)
Four weeks full time work at Weta Workshop, Wellington 2011
Finalist 2012 WOW Show, Children's section,Holey Moley
Finalist 2014 WOW show Children's section, 'Message in a Bottle'
Finalist 2015 WOW Show, Children's section
'Reel or Imagined' Third place Award
Finalist 2017 Open section ' Bed of Roses'
Artists statement: Together we face the inevitability of a new world…. Let's make it a positive and joyous one