Biography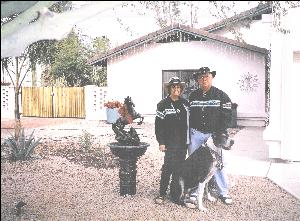 "WE LIVE IN A COLORFUL WORLD"
I hope you take as much pleasure viewing my portrait expressions as I did in creating them! My Specialty is, "Personality" Pastel Portraits on Suede Board or Velour paper. But I also like to do colored pencil/charcoal and always, Oil on canvas.
"MY ART BACKGROUND"
Diane is a member of the Casa Grande Valley Fine Arts Association of Arizona!
The creation of my logo for 30 years was based on
having always loved animals, especially Horses and Dogs. I've acquired a vast knowledge of most Breed's characteristics, expressions and standards. My husband Brandt and I traveled extensively on both coasts displaying my Artwork. The itinerary at that time consisted of doing Portraits at shows, utility, pets and Horses, with their owner/riders, and many breeds of Dogs, all within their home or show ring environments. We've set down roots in Arizona now and my Artwork has expanded to more landscapes, still including our animal friends (wild or domestic) and formal human Portraiture.
Diane offers Original Artworks! She does Pastels on Velour and on Suede Board, Oils on canvas, Charcoal & Color Pencil drawings on Suede board and Art paper We have Limited Edition Prints of her original Works also. Diane likes doing the Personal Animal or pets, Seascapes & Landscapes, Homes, Buildings etc. and works from clear photographs!
This is a family operation, as my husband does the professional framing and matting of my artworks. He does secure quality packaging and shipping of the artworks, and does all the legwork and paperwork.
We thank you for your interest and visit to our Artwork web site www.yessy/artceartist. Should you need more information, please click on the Contact us button for email information!
Diane & Brandt Wehr