Biography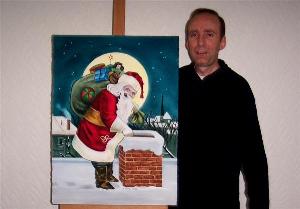 My name is Ray Lang,and I live in the U.K.
I was born September 28th. 1956.
Most of my paintings are from vintage postcards I
win on the U.S. Ebay,and are dated from the early
1900s.
They are mainly 30 x 22 inches using heavy heavy paper and watercolour/gouche.
I painted one in memory of my Mum,who was born
Christmas Day 1918,but passed away Easter 2000.
The first Santa Claus painting is here in my
Yessy gallery somewhere,titled "First Santa",and
was done in 1994.
The paintings I have sold have gone to American
people,who seem to be more enthusiastic about my
paintings.
I used to paint/copy the covers of the old American comics...Marvel and DC from the golden
era of the 50s 60s and 70s,and have started another gallery for them here on Yessy.
These comic covers are larger than my Christmas paintings,and are 33 x 23 inches on A1 paper using poster paint.
Used to be in a punk rock band in the late 70s/
early 80s..then a rock band mid 80s.
Now I am constantly playing electric lead and
rhythm guitar,but mainly teach,as I have gone
back to the raw basic Rock and Roll and R&B of
the late 40s and 50s.
Favourite movies...It's A Wonderful Life..Harvey..
One Magic Christmas (starring Mary Steenburgen)..
Forbidden Planet..War Of The Worlds..The Day The
Earth Stood Still..The Party (starring Peter
Sellers)..
Best musicians...The Beatles..T. Bone Walker..
Jimmie Vaughan and brother Stevie Ray..B-52s..
The Ramones..Chuck Berry..Louis Jordan..Bill Haley
and his Comets.
Oh..I forgot..I love the snow,but sadly we don't
get much here in the England any more.