CAROLINE STREET ARTIST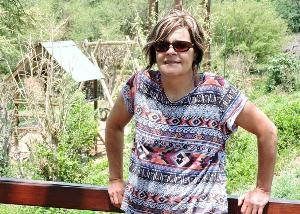 MY LINKS:-
My website:-
www.carolinestreetart.com

Prints and greeting cards:-
caroline-street.fineartamerica.com

Original art sales:-
www.yessy.com/carolinestreet

My book:-
https://www.amazon.com/Take-Walk-Me-Illustrated-Photographer/dp/148286035X

My photography:-
https://youpic.com/photographer/carolinestreet/

Instagram: @carolinestreetart
Facebook:-
facebook.com/carolinestreetart

BIOGRAPHY
I am a South African Artist, poet and amateur photographer from Mpumalanga, South Africa. I was born in Zimbabwe, moved to Cape Town and then to Phalaborwa (a small town in the far north of South Africa) where I grew up as a 'bush baby'. Here my family spent 6 months in a tent and caravan. This new town had no houses as these were still being erected. This was the seed of my love for the environment. The environment in those days was unspoiled and completely natural. It was a bush existence. The Kruger National Park was within walking distance from my home. Leopard, baboon, elephant etc. were common sightings in and around the little town, with some fatalities.
My art education was a living one: the bush, extreme heat, dust, creepy crawlies, wildlife, rivers, mountains, the forests and bushveld trees. As a young person, my family travelled through all parts of South Africa and Zimbabwe on a regular basis.
I have a God-given talent and all my work is dedicated to Him. My subjects include wildlife and birds, still-life, landscapes, country and cityscapes, portraits, figures and flowers of all sorts. I also enjoy naïve art, design, fantasy and Christian art. My art could be detailed, contemporary or abstract.
My main medium is oils, which I call the living paint. Every now and then I work in acrylics, watercolour, gouache, and pastel. I love to experiment with batik, lino, collage and mosaics. I am mostly self-taught and have gained inspiration from life, my environment, other artists, books etc. I have that never give up approach and will not leave anything uncovered in my search to improve and I have gained a lot of experience from this. Some art instruction I received from a local teacher, Heila van der Merwe, (who has sadly passed on) who taught me the finer points about art.
MY POETRY
I write poetry, which is inspired by a subject that I paint and the thoughts and feelings I have as I paint. My poetry includes subjects about animals, nature and life with its twists and turns.
Art is a joy! Enjoy looking at my work and thank you for doing so. Remember the greatest compliment you can give me is to take the time to view my work. Please feel free to contact me with any questions using the contact form - I would love to hear from you!
Thank you!
Caroline Street