Biography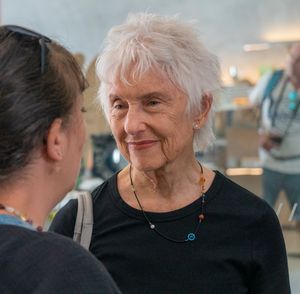 Carol Ring
Born 1942, Ventura, CA
EDUCATION
Otis School of Art, Los Angeles
University of California, Los Angeles
University of California, Santa Barbara
EXHIBITIONS/AWARDS/COLLECTIONS
"Small Images" Atkinson Gallery, Santa Barbara, CA • Sept-Oct 2002
"Urban Quilts" solo show, Forbes Hall, Santa Monica, CA • July 5-27, 2003
"Crafting the Los Angeles Experience" The Craft & Folk Art Museum, Los Angeles, CA (Honorable Mention) • Oct. 1-23, 2005
"Totally Square" solo show, Forbes Hall, Santa Monica, CA • Aug. 5-27, 2006
"Snap to Grid" Los Angeles Center for Digital Art, Los Angeles, CA •
Sept. 14-Oct 1, 2006
"Two Photographers" Artists' Showcase Series, Bank of America, Brentwood, CA • Oct 15, 2006 - Feb 2007
"Modernism Today" City of Los Angeles Cultural Affairs / World Airports-LAX Bradley International Terminal, Los Angeles, CA • Oct 10, 2006 - Feb 18, 2007
"The Fate of Spiritual Icons in Post-Modern Times" Art InSight First Art Show, Venice, CA • Dec. 5, 2009 - Jan. 5, 2010
"Digital Darkroom" Slideshow night, Annenberg Space for Photography, Los Angeles, CA • May 3, 2012
Western Asset Management, London, England
and various Los Angeles collections
TWO PHOTOGRAPHERS INSPIRED BY BUDDHISM (Feb 2-27, 2014)
"I always carry my camera, often stopping to shoot whatever captures my eye: reflections, clouds, graffiti, land and cityscapes, or just interesting abstractions of shapes and colors. In two previous shows (2003 and 2009) I combined my street photos into grid formations, first as "Urban Quilts" (about 24 images in each), and then as "Spiritual Icons" (over 400 images in each). My award-winning work hangs in both private and corporate collections.
"Recently retired as a graphic designer, I'm now becoming an ardent meditator and student of Buddhism. In this current show, each piece consists of three evocative photos, one of which serves as a visual frame, with a brief Mindfulness or Metta (lovingkindness) phrase superimposed. They are meant to "re-mind" the viewer to be present, to relax more deeply into the felt-sense of our true nature. These prints are made by infusing dyes onto coated brushed aluminum."
URBAN QUILTS (2009)
"Seeking a more personal expression than the graphic design I've done for so long, five years ago I began to photograph details of my surroundings as I drove around town. These snapshots—of coloful signage, graffiti, rust stains, peeling paint, and other elements of urban blight—felt fresh and vital to me. When I grouped them and brightened them in Photoshop, they began to look like urban quilts.
"Layers of life constantly build up and decay around us. Interacting with this process is like being part of an anonymous cooperative venture. Some of the images I shot two years ago have been painted over or modified. New elements—graffiti, stickers, posters—have cropped up and are themselves beginning to decay.
"In each of my urban quilts, I try to capture and blend a few of these scraps of perception, and present them as abstractions worthy of our view."
—Carol Ring
JUST SAY YES (March, 2019)
"Carol Ring is a graphic designer and artist whose work is generated from her collection of abstract photos, which she has gathered on daily travels through the urban scene. Over the years she has developed a unique style of combining and layering photos using filters in Photoshop. Lately adding words or sentences to the mix, she now has the pieces printed with a process of infused dyes onto coated brushed aluminum. This is her eighth show, fourth on the UUSM Art Wall in the last 15 years; her award-winning work hangs in both private and corporate collections.
"In the current exhibition, "Just Say Yes," she has pared her message down to the single word YES, along with a few other affirmative words or phrases, quotes from Carl G. Jung, Eckhart Tolle and Dag Hammarskjold. Each piece conveys the positive notion: To get what you want, want what you get.
"It seems to be characteristic of the human condition that how we mentally label an experience (i.e., "good" or "bad") determines how we feel about it. In other words, we suffer when we want things to be different from how they are. As Tina Fey advises in this pointer toward a happier life: 'Say Yes. You'll figure it out afterward.'"