Biography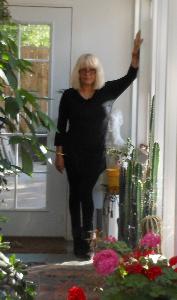 I was born in Paris France, and grew up among the bohemian artists of Montmatre. I spent my time among painters, poets, musicians, and writers and the louvre. After I arrived in the United States, I lived for a short time in Denver Colorado, but a few years later I made New Mexico my home.
My work is done in watercolor, charcoal, pencil, pen and ink, etching and oil.
merci for looking at my work.
Danielle's pictures defy categorization. She works with ease in many art Medias and styles. Within her unique vision and command of her technique, she has created a world of strange beauty reflecting her personal image of women." Joseph Hamilton
"Of haunting and mystical beauty…" R.C. Gorman
impeccably rendered… mastery of the medium." Wesley Pulkka, Albuquerque Journal
"Visually compelling… the close value color, and with some paintings monochromatic tonal composition, enhance energy, ethereal tenor, and content. Wonderful work." Angela Di Bello, Agora Gallery, NY