About the Artist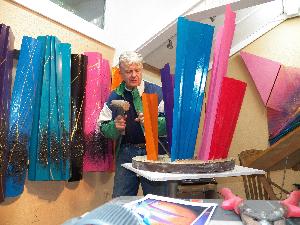 David Ashworth Burslem
Designer of Sculptural Abstract Landscapes
Online Gallery:
www.yessy.com/davidburslem

Contact:
SculpturalAbstractLandscapes@gmail.com
2324 Cherry Lane, Arden, De 1981302-545-7489
Over the past 50yrs I have made a living in advertising design, teaching, construction and opening my own Studio Gallery's in Old Historic New Castle and Arden while continuing to produce colorful, imaginative works of art. My artistic influence comes from University of Delaware professors Charles Rowe, Peter Charles, Byron Shurtleff and other Arden artists that I grew up with: Aurelius Renzetti, Bunni Hurlong, Ash and Mary Burslem, David Smith, the sculptor and abstract expressionists Jackson Pollock, Franz Kline, Paul Klee, Miro and Salvadore Dali.
Birth: June 19, 1945, Laurens, South Carolina
Education: BA Graphic Design 1968
Various shows over the years have been in Philadelphia, D.C. and Wilmington
Juried shows include:
· 2009, Oct________Bucks County Gallery, New Hope, 1st Annual Sculpture Show
· 2009, Aug________Boys and Girls Club Ellen Degeneres Wacky Chair Contest
· 2009, Nov________Delaware Art Museum< 1st Annual Delaware By Hand Masterworks Exibition
· 2010,____________Penisula Gallery in Lewis and Rehoboth Art League continued Masterworks
· 2011, Mar-June____Biggs Museum, Dover, "Landscape Competition and Show"
· 2011-12, Nov-Feb_ Delaware By Hand Masterworks Exhibition
Other Studio and Wilmington Art Loop Shows
· 2008-12, Dec._____Arden Open Studio Tours, organized by artists
· 2013, Aug________Wilmington Art Loop: "David's Studio and Gallery Premier Opening"
· 2014, June________Spring Sale "David"s Studio and Gallery"
· 2016, Sept.________Wilmington Art Loop LOMA Leasing office, Market Street
2018, Dec 1__Arden Holiday Shop
2019 Rehoboth Art League
46th Fine Craft Exhibition___June 14-July 26
81st Fine Art Exhibition_____July26-Sept 1
2019, October__Wilmington Art Loop David's Studio and
Gallery
2019, November__DCCA SABA V_donated 14 6x6 images
2019, Dec 1__Arden Holiday Shop
2020, March 6___Wilm. Art Loop at The Buzz in Arden
2020, November 29__Arden Artisans Trail outdoor walking tour, produced "Rise Up" Sculpture Garden, making inspiring and hopeful sculptures to chronicle the Covid-19 pandemic
2021, June 6__Arden Artisans Trail 2nd outdoor walking tour
2021, July__recipient of a Delaware Division of the Arts Opportunity grant
Artist Statement:
I have followed my ideas to produce unique works of art. One aspect of my designs was in creating abstract expressionist landscapes by painting over layers of various textures and colors painted on a flat canvas framework. These paintings evolved into wall and garden sculptures using cedar and redwood frames with stretched canvas over three dimensional geometric shapes. These heavy pieces changed to aluminum as my canvas, which has been bent and shaped to create multiple sculptural interpretations.
This shaped aluminum format has allowed me to have an unlimited supply of sculptural variations which I can use to paint on and also to apply UV protected gyclee canvas prints, allowing outside display of my pieces.
My most recent Garden Sculptures have continued my use of an angled design theme derived from my impression of the steel beams jutting up from the WTC aftermath. My first 9-11 sculpture, made from a 4'x8' sheet of aluminum depicted and angled American flag rising up from the ashes. Sixteen years later, this angled theme has evolved into sculptural abstract grasses or flowers growing from the ground and representing a rebirth.
The scope of my works has included digitally produced imaginary landscapes as well as hand-crafted designs from homegrown cherry wood and our own bamboo grove.
Building on my formal art education in graphic design, sculpture, photography and fine arts, I am able to visualize my ideas by combining them with my learned skills working with tools used in the remodeling field.
I continue today to explore new materials and techniques to produce any concept that my mind imagines.
###