About the artist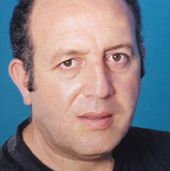 Eliezer Klagsbrun
Photographer, designer and painter
The official site of the artist is:
www.buyart.co.il

Born in 1952, Jerusalem, Israel
From an early age showed an interest in art, started photographing at the age of 13 as a hobby, since then felt a deep connection and love for photography and in general for arts
Studied in the Hebrew university of Jerusalem Sociology and International relations between nations,
Studied in the Hadassah College in Jerusalem technical and creative photography.
His teacher for artistic photography in the Hadassah College in Jerusalem was Professor Chanan Laskin that was also head of the Department for artistic photography at the known Bezalel Academy of art in Jerusalem
His teacher for design was professor Joram Rozov A drew Meyer, a designer and Professor of art (He was also a known artist and a teacher at the known Bezalel Academy of art in Jerusalem)
His teacher for technical and advertising photography was Gavra Mandil, an Israeli known photographer, one of the first advertising and fashion photographers in Israel, chairman of the Association of photographers, teacher of photography, "Gavra Studio" founder
Combined with his studies, Eliezer also worked for the Israel Police more than four years (since 1974) as a special supplementary police officer. Eliezer received personal appreciation from his commanders for his activities & actions he did for the Israel Police
Eliezer worked for the Israeli television (chanal 1), as a freelancer for 20 years,
Owned and run a Photography Studio (Studio "orfilm" for Technical industrial and advertising photography) Specializes in photographing shiny objects, jewelry and Judaica and also portraits photography
Among his clients were famous artists, and Judaica artist manufacturer or Art dealers,
One of the famous was Shuki Freiman, A Judaica artist creates diverse art works ,
Menachem Berman, Heirlooms Judaica gallery and others like uri ramot (An artist of silver and gold artworks combined with ancient color glass)
Eliezer was a photographer of the "Israel coins and medals company" and the Bank of Israel,
During many years of working in photography, specialized in natural and artificial lighting, since childhood until today is involved in creative photography,
Ever since early childhood, wherever he went he carried a camera, looked every place for artistic appearance images (subject, light, atmosphere and emotions) to photograph it.
Eliezer has large artistic photo archive, including creative pictures which were taken for many years, mainly in Israel.
Some of the photographs exhibited in several exhibitions in Israel, among them an exhibition of 35 photographs in the International book fair that took place at the international Convention Center (Jerusalem), (Eliezer was selected to present the exhibition by the former general manager Mr Dan Avnon
Apart from Eliezer involvement in photography, he is also designs and paints