Biography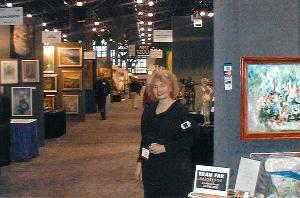 Eran Far is a Iranian/American artist whose formal training began at Kamal El Molk Art Academy in Tehran and matured under the direction of the great academis of Brussels. The realization of her unique style,a combination of the abstract and expressionist movements, culminated at the prestigious Art Students League of New York.
Hailed by critics as "subjective realism"' her expressive and hypnotic style evokes thoughts that carry the mind from reality of nature to abstract expressions of emotion, her watercolors and mixed media work has perhaps been best of beauty of the heart and inner being."
"Through my paintings I want to explain beauty and harmony beyond the traditional and expected ways. My paintings reflect all the scenes and incidents that affected me deeply-sounds, lights,colors. This together with the experience of "crossing into the world beyond' which is inexplicable even to myself, is the main texture of my paintings.
Ms Far's work has been on exhibit in numerous shows throughout the United States, notably in New York, New Jersey, California and Florida; and abroad in Paris, Nice, Brusselles, Berlin and Tehran. Collectors of art own many of her paintings.
In 2015 Eran Far relocated to Stuart, Florida where she extended her Artistic talent in teaching Art, offering workshops and commission works. For further information about classes and exhibitions
Contact: La Maison du Louvre Gallery:
Tel: 201 496-3872
email:
eranfar31@gmail.com