Biography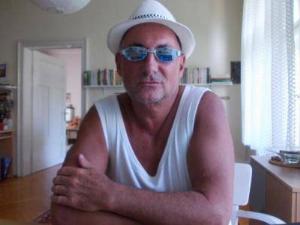 hi :)
due to an eye disease that has existed for several years, my artistic activity has come to rest. in the next future i will not be able to paint and draw again, sorry...
last update: 2021, march.
- - -
contact/email:
migpuya@yahoo.com
- - -
personal page:
http://puya.info

(this site has currently no update, sorry.)
- - -
art pages:
http://mig.puya.info

&
http://www.absolutearts.com/migpuya

- - -
for prints click here:
http://michael-puya.artistwebsites.com

- - -
short bio:
my name is MICHAEL "MIG" PUYA,
born 1958 in austria with german-italian roots,
living both in austria and south-east asia.
---
lifestyle: traveling as much as possible (germany, great britain, thailand, cambodia, spain, italy, croatia etc.).
---
education: high school, university, academy.
---
hobbies/interests: art, history, literature, music, nature, swimming, geography, foreign countries.
- - -
this was an honor for me:
2001, some of my artworks have been selected by an investigation institute for arts (FIBK) in germany:
the jury of the art competition awarded eight paintings a prize to "magna cum laude".
2003: Dr. h.c.
2004-2005, associate member of the national academy of fine arts (NAFA), brazil:
participation at the "international art competition NAFA 2004":
http://puya.info/bio.htm

- - -
2020: Dr. pharm. h.c.
---
hommages:
http://puya.info/apps/photoalbum?aid=235615

- - -
exhibitions:
http://puya.info/exhibitions.htm

- - -
sold originals:
http://puya.info/apps/photoalbum?aid=166270

- - -
guestbook:
http://puya.info/guestbook.htm

- - -
additional info:
i offer FREE SHIPPING worldwide!
email:
migpuya@yahoo.com
(phone nr. on request)
- - -
i also accept cryptocurrencies as paymant (f.e. bitcoin & some altcoins).
discounts are possible.
please, contact me private:
migpuya@yahoo.com
- - -
the most important LINKS are summarized here:
http://www.art-3000.com/artist/?id=284

https://www.absolutearts.com/migpuya/

https://fineartamerica.com/profiles/michael-puya

https://www.saatchiart.com/migpuya