Biography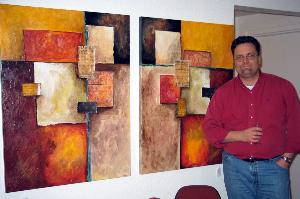 My name is Roy Vance and I'm an artist that lives in Richardson, TX. I have been active in the home decorating / artistic field since 1992. While my degree is in Art, I never really pursued painting until 2005. It started as a hobby and took off from there. I use color, shape and texture to express thoughts and emotions about various subject matter. My inspirations include nature, science and human interaction. I keep a daily journal and many of my paintings are inspired by life events. I enjoy meeting with people and am honored when someone selects one of my paintings for their home or office.
I have been commissioned to create pieces for residential and commercial spaces. I can work within specified design criteria (colors, size, budget). In addition to enhancing décor, art can have symbolic meaning for the collector. Sometimes a client will ask for a mixed media piece that incorporates a special trinket or sentimental item. I love to experiment…it gives me a chance to grow and try out new techniques.
I believe that art, like life, is about learning, growing and sharing with each other. I hope you enjoy my art as much as I enjoyed creating it!