The Artist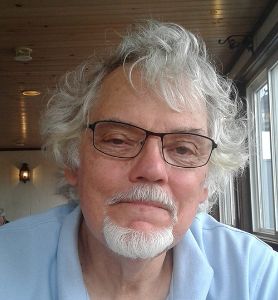 THE ARTIST
Stone Riley is a multi-disciplinary artist supposedly famous within the Pagan movement. (See FYI note below.) He paints, writes, interprets classical material for the modern public as a storyteller, reads Tarot, plays drums, engineers software, and has even been known to dance before a theater audience. (Once.) He lives west of Boston, USA. His self-publishing business is called Spirit Hill Studio. He's sometimes called the "Druid Of New England".
This website here is the art gallery. If you are interested in buying a piece that is shown here, or just want to chat, please send an e-mail to
stone60@aol.com
.
On the other hand, here is the home site:
www.stoneriley.com

Here's one with stuff you can buy on-line and also probably some free downloads:
www.lulu.com/stoneriley

And here's the one for Tarot:
www.stoneriley.com/MagicMirrorTarotDisplay.html

Thank you for your interest.
=> FYI note: Paganism (or Neo-Paganism) is an avant-garde bohemian shamanic religion in which religion is regarded as an art. You craft spiritual experiences for yourself and friends in search of actual real reality. Results seem encouraging so far. Politically, the movement is progressive and very green with pacifist tendencies. It is utterly unorganized by choice and has user-participation literature instead of holy writ. It is growing quickly now, with maybe something like approximately half a million adherents in the USA, more or less. Small religion; big art project.
Would you like to hear a little about the paintings? It's hard for me to guess what you might like to hear -- because of course it's such a big deal to me personally -- but I'll try to do a brief synopsis. At least I'll try.
I did some painting, just starting out, back in 1979 through 1981. I had some good pieces but soon realized that I did not know enough. Basically, I had no insight into what art really is and painting is too damn hard without that. There's so much freedom in painting that you've absolutely got to have ideas about fundamental questions. Or, of course, your other choice is to just crank out crap.
So over the next two decades I did the occasional visual art piece but mostly switched to other disciplines. A lot of them. Published some tiny magazines, for example. Did some interesting small sculptural constructions. Developed a performance art piece that was well received. Devoted considerable effort to Pagan ritual drama. Did occasional nude interpretive dance at a friend's private garden events. Et cetara. And certainly I kept on writing.
But what is art? (And similar related questions.) Can you guess which art taught me most about itself?
Imagine this: Sit down with half a dozen or half a hundred of your fellow humans. Your turn to work comes around. Cast your mental gaze on everything you've seen or heard or felt or thought and pick a thread out of the air. Describe it. Mentally you rise up from your seat and pull yourself along that thread and tell the truth as best you can about all the scenes it leads through and all the characters you meet. That is storytelling. And fundamentally that's what all arts are like; the rest is just technique.
Art is an effort to tell the truth. And therefore it is an effort to communicate. Stay concentrated on that goal. Communicating is not easy.
So then in 2000, in mid-summer just before the 54th anniversary of my birth, I thought I'd give the painting thing another shot. I had a wide piece of board left over from a small table I'd cobbled up -- there in a forest hilltop shack that I was renting after a romantic breakup -- so I stuck this thin rough board on a makeshift easel and pulled out the acrylics tool box. I only had colors left over from utility work, like banners and signs and such, and the good brushes were all twenty years old.
So here's something from a few months later:
PREFACE
A poem by Stone Riley; April 2001
In August of my fifty-fourth year, leaving my last wife, I moved out to a quite peculiar place a friend had found for me to rent -- a kind of modern day shack to tell it candidly, though plenty roomy for a bachelor life -- at an old ex-horse farm no longer working, on an elevation of the ground called "Spirit Hill", a steep round haymeadow hilltop where a range of small size forest mountains hold up the skyline all around, at a dirt road's end, amid several hundred acres of these well-loved wild New England woods. Of course fine little creeks wind and tumble down the bony creases of this land. And my new place had -- and still has now -- several small rooms, one of them with lovely morning light, and in that room I soon propped up a soft pine board left over from some simple furniture just built, and picked out the old art brushes again from their tool box after leaving them aside for twenty years. (To tell it candidly, I'd made a sign or two and such as that from time to time, so had the proper kind of paint on hand as well, though in few colors.) I painted me a picture for a space of wall. I must. Who else would paint the picture that was wanted in that place? It was a magic morning picture of the Sun. It turned out pretty goddam good, to my surprise and even shock. (That's speaking candidly.) Now -- eight months on and eighty-seven pictures later -- much has changed for me. The walls are full for sure with only space remaining in the attic. But my interior space has blown out to the furthest reaches of the stars beyond all walls, and I have reached down to the deepest waters of the soul, and found myself alive in all the realms of myth.
If you'd care to continue the story, there's a three pages on this website that you could look at.
http://www.yessy.com/stoneriley/elements.html?i=6426

http://www.yessy.com/stoneriley/BlackWhite.html?i=6627

http://www.yessy.com/stoneriley/rant.html

Okay then; thank you very much for your interest.
Stone Riley
=Peace through justice=