Tommy Zegan Bio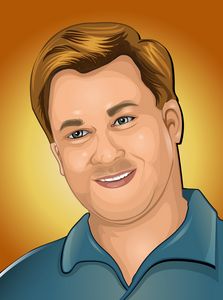 Tommy Zegan started his attempt at corporate art in the 4th grade at Rio Plaza Elementary school were he won first place in a regional poster contest for the national fire prevention contest. His poster was simple but precise. It was a black piece of construction paper that had a hole tore out in the middle of it. There was a paper match that appeared to have just been lit. On the bottom of the page it said in white letters "Matches Burn More Than Holes".
Tommy's point was to keep kids his age from playing with matches. It worked because he won not only his district but his county as well and made it all the way to the California state finals.
Later Tommy became one of the original beta testers for the computer program Coral Draw. Once he mastered that he began to use his knowledge to create artwork for commercial product labels, CD labels as well as innovated and artistic websites.
I love creating something from nothing by turning an idea into reality. Famous Pop Art by Tommy Zegan Originals